Hockey Celebrates over 40 years with Alumni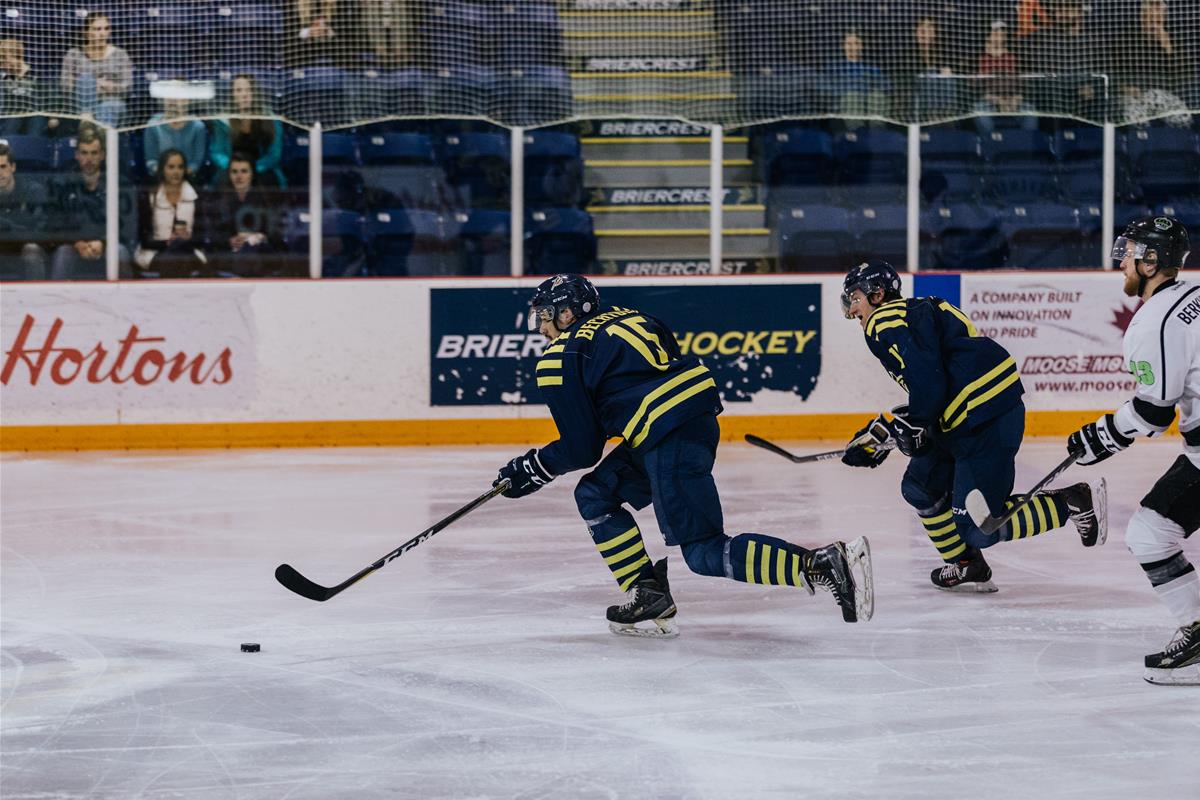 This past Friday and Saturday, Briercrest hockey hosted its annual alumni weekend and welcomed back teammates from previous years. Since adding the team over 40 years ago and joining the ACAC league in 1997, Briercrest hockey has continued to grow, and support for the program was clearly seen by the alumni, staff and students in the crowd.
Briercrest hockey has a strong alumni, dedicated to seeing the program succeed and bringing together players after graduating. Briercrest head coach Jamie Ramer is also an alum, Jamie played for Briercrest between 1994-1996/ 1998-2000 and has been coaching the team for the past 4 seasons.
Representing alumni for the ceremonial puck drop this year were Dave Drebert and Jayson Zilkie. Dave played for Briercrest between 1996-1999 and was also the first player to serve as captain for Briercrest hockey when they joined the ACAC league. While attending Briercrest, Dave studied theology and he went on to work for the Edmonton Fire Department for 10 years before going into business. Jayson played for Briercrest between 2003-2008 and was on the team when they made playoffs for the first time. After graduating he continued his hockey career playing professionally in the US with the Kalamazoo Wings and Richmond Renegades and then in France. Dave and Jayson both expressed how Briercrest hockey has made a difference to them not just as a player, but in their lives as well.
For Briercrest's games, the team opened Friday night leading the Red Deer King's (4-2-0) 1-0 early in the first, but lost to them in the final. Tristan Hermanson received player of the game for Briercrest with the lone goal of the night. The King's also defeated Briercrest in game 2 on Saturday, Korlan Vador received player of the game for his 46 saves while Mark MacKinnon scored Briercrest's goal. The team will face 4th place SAIT this weekend in Calgary.