Since 1996, the Briercrest Clippers have competed in the Alberta Colleges Athletic Conference (ACAC) of the Canadian Collegiate Athletic Association (CCAA). Briercrest is the only non-Albertan institution in the ACAC.



The ACAC has a long and storied history, beginning as the "Western Inter-College Conference" in 1963 before changing to the current ACAC in 1968. In 1970 the ACAC entered into an affiliation with the college athletic conferences in the three other western provinces to form the 4-West Conference for regional play-downs.
The CCAA was founded in 1974, and the first CCAA National Championships were staged that same year. Camrose Lutheran College won the ACAC's first National Championship by capturing gold medal in men's ice hockey that same year.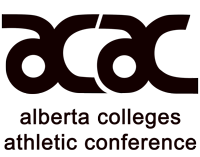 In 1979 ACAC elected to permanently abandon the 4-West Conference Championships in favour of sending its own ACAC Champions to the CCAA National Championships.
There have been many changes in membership and sports offered since the inception of the ACAC. Currently membership includes Ambrose University College, University of Alberta - Augustana, Briercrest College, Concordia University College of Alberta, Grande Prairie Regional College, Keyano College, Lakeland College, Lethbridge College, Grant MacEwan University, Medicine Hat College, NAIT, Olds College, Portage College, Red Deer College, SAIT Polytechnic, St. Mary's University College, and The King's University College. ACAC sports include basketball, cross country running, curling, futsal, golf, ice hockey, indoor track, soccer, and volleyball.