2022-23 Briercrest Volleyball Home Game Schedule Announced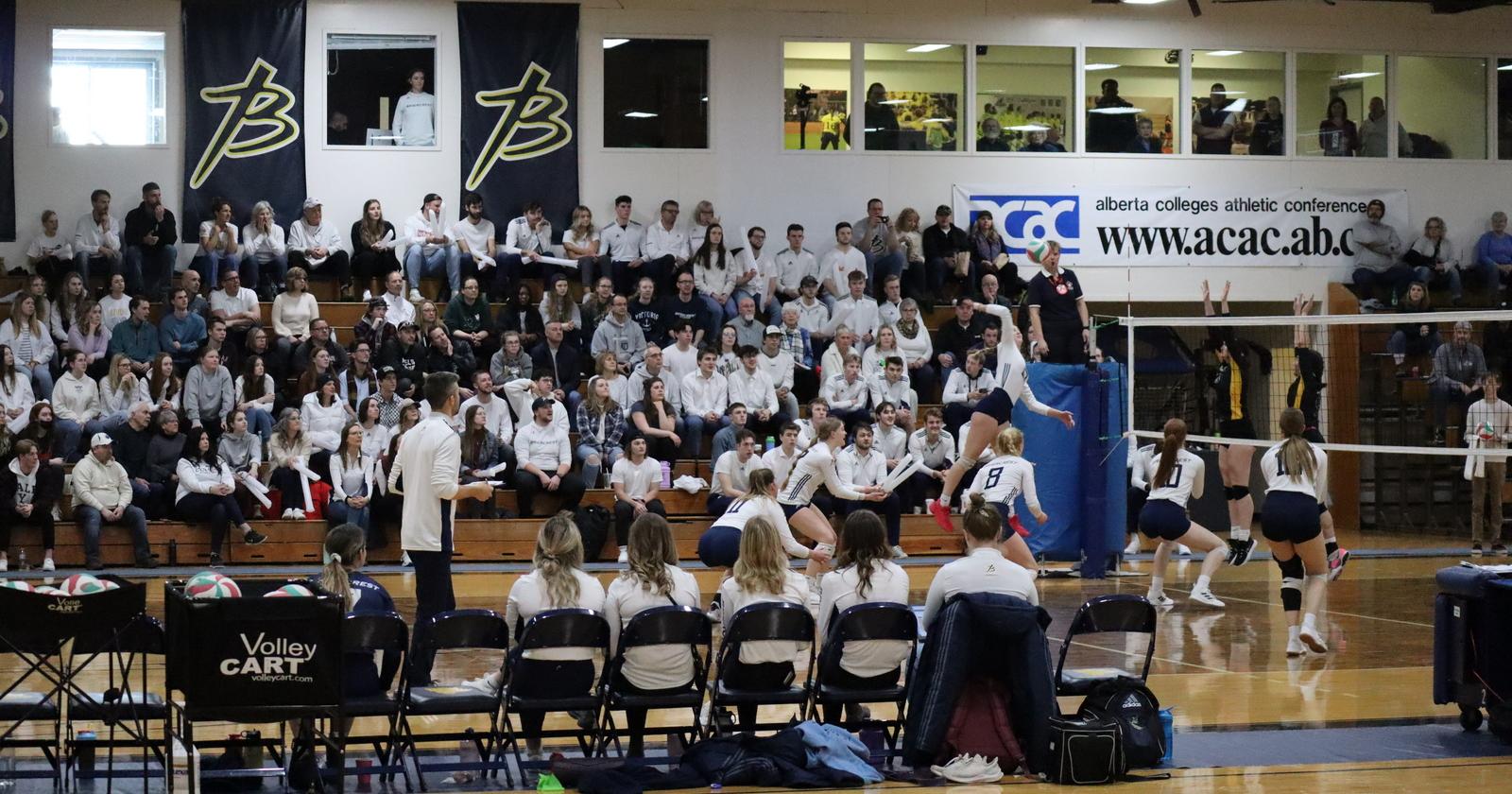 We are excited to announce your 2022-23 Briercrest College Clipper Volleyball home game schedule! ACAC Volleyball is featuring a new regular season schedule format this year, where each team will have an 18-game schedule, that has two matches against each divisional opponent, and then one match against each opponent from the opposite division. We look forward to our Clippers having nine of their matches at home here in The Hangar this season!
The volleyball programs will have the privilege of being the first of our Briercrest College teams to play a regular season match at home this 2022-23 season – they will have their Home Opener against the defending champions from Red Deer Polytechnic on Friday, October 14th at 6 pm (women) and 8 pm (men), followed by rematches on Saturday afternoon. The Red Deer Kings and Queens have been long-time ACAC South Division rivals of both our men's and women's teams, and both Red Deer teams won ACAC Gold last season, so we look forward to a very exciting first home weekend! Be sure to mark your calendars, as this is also the annual Alumni Weekend for both programs, so we look forward to seeing many alumni back here on campus! It will be a special occasion, as we will be honoring the coaching career of Nolan Weinmaster who finished his 16-year tenure as head coach of the women's program back in April!
The next home weekend for Briercrest volleyball will see the Ambrose Lions come to town to play the Clippers on the evening of Friday, October 21st, and afternoon of Saturday, October 22nd. The next home match won't be until mid-November when a couple of ACAC North Division opponents are here: Northwestern Polytech (formerly Grande Prairie Regional College) arrives to play on November 18th at 6 pm (women) and 8 pm (men), while NAIT arrives the next day for a Saturday evening matchup (6 and 8 pm).
After the Christmas break, your Briercrest Clippers will have just two home weekends in January to close out their home schedule. North Division opponent, Augustana, meets Briercrest for a one-match weekend on Saturday, January 14th at 6 pm (women) and 8 pm (men).
Then our Briercrest teams finish off their regular season home schedule in a back-to-back matchup against the Olds Broncos on January 27th and 28th. They women will play Friday at 6 pm and Saturday at 1 pm, while the men will be at 8 pm Friday and 3 pm Saturday. This will also be our Senior's Weekend where we will celebrate graduating and fifth-year athletes from both programs, so we look forward to having many family, alumni and fans out for that special weekend!
The women's volleyball team is starting a new era under the leadership of head coach Rhonda Schmuland, who took over the reigns in April. They are looking to continue to build off a strong foundation of past success, with a returning core of players that includes CCAA All-Canadian, Faith Buhler. They go into this new year with hopes to capture another ACAC title, after winning it all in 2019-20, and a fourth place finish last season. The men's program is returning most of their team who won ACAC Bronze last season, including ACAC South Division Player of the Year, Karym Coleman. Long-time coach, Nigel Mullan and his strong group of returning players hope to take another step forward this season, and are looking to bring home an ACAC championship!
For a full regular season schedule of each team, please go to our Women's Volleyball and Men's Volleyball team pages.